How to Choose the Perfect Floor Plan
Posted:
March, 14, 2023 |
Categories:
Tips & Trends
Choosing the right floor plan for your home can feel like a daunting task when you are building a new home. A floor plan is the layout of a home, and it plays a crucial role in determining how comfortable and functional the space is. It's important to consider your lifestyle, family size, and future needs when choosing a floor plan. Check out these tips on how to picking the right floor plan for you and your family.
Consider your lifestyle
Your lifestyle should be the biggest factor in choosing a floor plan. You should think about how you and your family will use the space. For example, if you enjoy entertaining guests, you may want an open floor plan that allows for easy flow and interaction between rooms. If you work from home, you may need a designated workspace or an office. If you have children or pets, you may need a flex room to allow for more space for them to play.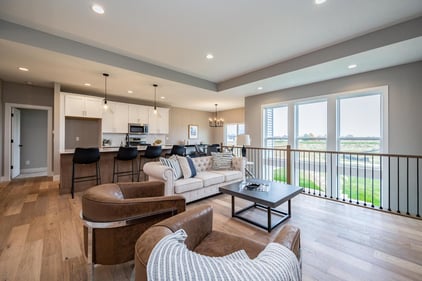 Think about the future
When choosing a floor plan, it's important to think about the future. If you plan to have children or expand your family, you may need more bedrooms or a larger living space. If you plan to retire in the home, you may want a floor plan that accommodates mobility and accessibility.
Assess the flow
The flow of a floor plan is how people move through the home. You should look for a floor plan that has a natural flow and easy access to the main areas of the home. You should also consider how the flow will affect privacy and noise levels. For example, you may not want a bedroom located next to a noisy living room.
Consider the size of the rooms
The size of the rooms is another important factor to consider. You should make sure that the rooms are large enough to accommodate your furniture and that they are not too large, making them difficult to furnish. You should also consider the ceiling height, which can affect the overall feel of a room.
Determine your budget
Before you start looking at floor plans, it's essential to determine your budget. The size and complexity of a floor plan will affect the cost of building or purchasing a home. Once you are pre-approved by a lender, you should consult with a New Home Specialist to get an estimate of the cost per square foot for the type of home you want. Having a budget in mind will help you narrow down your search and prevent you from overspending.
Evaluate the location of the home
The location of the home can also affect the floor plan. If you have a beautiful view or want to take advantage of natural light, you may want a floor plan that has large windows or a porch. If you live in an area with extreme weather conditions (like Iowa), you may want a floor plan that includes a dropzone or an entryway to minimize the amount of dirt and debris that enters the home.
Choosing the right floor plan for you and your family is a personal decision that requires careful consideration of your budget, lifestyle, future needs, flow, room size, and location. By taking the time to evaluate these factors, you can find a floor plan that meets your unique needs and ensures your comfort and satisfaction for years to come. Ready to look through some floor plans, view them all here.
---
Tags:
Tips & Trends
---
By Skogman Homes