Take Your Curb Appeal To New Heights
Posted:
August, 10, 2018 |
Categories:
Blog
|
Tips & Trends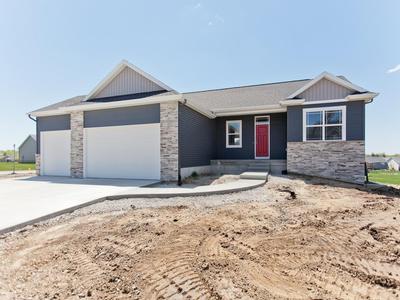 You know how the sayings go: don't judge a book by it's cover and it's what's on the inside that counts. But when it comes to a home, there's nothing wrong with a little outer beauty... You've already made the interior of your Skogman home as gorgeous as can be, so why not spread some love to the outside?

"Curb appeal" is a term used to describe the aesthetic of a home's exterior, with everything from decorations, to lighting, to landscaping. The comforting place that you return to everyday, there's something to be said about how your home makes you feel before you open the door.

At Skogman Homes, we believe that our homeowners deserve the highest-quality home, both inside and out. Get inspired by a few of our favorite ways to spruce up your curb appeal, and have a great time enhancing your spacious and comfortable home even further!

Door Color
Did you know that certain colors trigger specific emotions? Color plays a big role in our lives, and we oftentimes use these visuals to express ourselves and our unique personalities. Changing the color of your door can add new life to your home! Whether a deep, sophisticated navy suits your place best, or a bright, fire-engine red reflects its true energy, take the plunge and grab the paintbrush!

Front-Door Accents and Light Fixtures
The decor and details on the outside of your home can certainly bring about a comforting and welcoming vibe. From door mats, to wall lights, to wreaths, little pieces like this go a long way. If you're looking for a refined look, symmetry is the way to go, but a few differences here and there give the home some charm. For example, two appealing garden stools on either side of your door look great with different plants on top of them.

Front Yard Art
From sculptures and fountains, to stepping stones, to outdoor wall decor, your options for front yard art are unlimited. No matter your style, you're sure to find a piece of outdoor decor that suits your home best. Especially in the summer, flowing water from a water fountain gives your space a peaceful and serene feel! With contemporary designs in all shapes and sizes, these gems always catch the eye.

New Home Numbers
Your address is more than just a set of numbers... Use these digits to your advantage and incorporate them into your home's aesthetic! A customized plaque, which can come in all colors, shapes, and textures, can either be fastened to the front of your home (typically mid-length, to the right of the door), into your lawn, on a piece of outdoor art, and more. Be proud of your unique numbers and show 'em off!

Flower Boxes
There's nothing like beautiful flowers to add pops of vibrant color to the outside of your home. Over-the-rail planter boxes and window boxes create a gorgeous look for anyone that glances at your home. No matter what kind of flower you love the most, adding these patterns and colors to your home's exterior will keep a smile on your face all season long.

Summertime's in full swing and it's time to get decorating — get your home's exterior to reflect what's on the inside… pure, luxurious, and comfortable beauty! For more information on our homes and communities, please visit our website, or give us a call at 319-363-8285. We can't wait to partner with you on this incredible new home journey!
---
Tags:
Blog
|
Tips & Trends
---
By Skogman Homes