What to Look for in a Home Builder
Posted:
February, 24, 2022 |
Categories:
skogmanhomes
|
New vs. Used
|
Skogman Homes CV
|
Housing Market
Building a new home from the ground up is both exciting and daunting. Working with an informed and capable builder can push aside the uncertainties you may feel from all of the unknowns. Not all homebuilding companies are created equal, so it is important to find one you can partner with and feel confident in.
Use this criteria to narrow in on the ideal home builder for your new home.
How many years of experience does the builder have?
While this should not be the ultimate deciding factor, it is comforting knowing your builder has been around the block a few times and has hundreds of home-builds under their belt. Ask the company how many homes they have built as the general contractor or how many homes they currently have under warranty to get a better gauge of their actual homebuilding experience.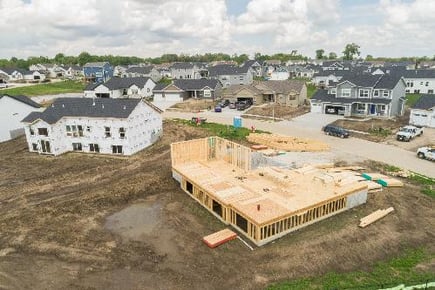 A builder with many years of experience in the field will know how to solve problems when they arise and how to talk you through all of your options. The lessons they have learned along the way will translate into a positive experience and quality home for you.
Is the company licensed and insured?
While qualifying potential home building companies, you should verify that they are licensed and insured. Licensing ensures the company is legally allowed to perform the work. Insurance ensures you are not liable for injuries or property damage.
The exact requirements for licensing and insurance will vary from state-to-state. At minimum, your home builder should have general liability insurance for their team.
Does the builder have a positive reputation?
When meeting with your potential builder, they will present you with beautiful brochures and glowing testimonials. You should also conduct your own research to ensure the builder has a positive reputation and is respected in the community.
Use word-of-mouth and digital search tools to research the reputation of the builder you are considering working with. Ask neighbors and colleagues if they or someone they know has worked with the builder and read online testimonials.
Are past clients satisfied and happy with their homes?
Ask your homebuilder for references from past clients. If the builder has constructed any subdivisions in your area, take a tour around the community and view the homes.
If you are able to get in touch with one of the builder's past clients, ask them details about the overall process. Were there any schedule delays? Did the project stay on budget? How has the quality of the home lasted? Are warranty issues quickly addressed?
Are all of your questions thoroughly answered?
There is no such thing as a stupid question. When going through the building process, you should feel confident asking any and all questions that come to mind.
A qualified home building company will provide you with a detailed explanation for each question you have. They should be able to break down the more technical topics into terms that make sense to you and give you certainty in your decisions.
Is the company transparent with pricing, inspections, and warranties?
While interviewing your builder, pay attention to the responses and explanations you receive. If the verbiage feels vague and unclear, this is an immediate red flag.
Builders should be upfront and honest about all of the intricacies of your project. This includes a well-written contract that details out pricing breakdowns, inspection procedures, and warranty periods. When additional costs or scheduling issues arise during construction, your builder should immediately alert you and walk you through available options.
Is the builder comfortable with your budget and style preferences?
Be open and honest about your style and budget expectations with your potential builder. Some residential building companies are capable of working with any style and any budget, while others take a more specialized approach.
Review the portfolio of past homes your builder has constructed and request the final project cost to determine if your vision will fit within their limits.
Are you aligned on communication expectations?
Every home builder will have their own procedures when it comes to day-to-day project management. Ask questions about the lines of communication and how involved you will be in the overall construction process.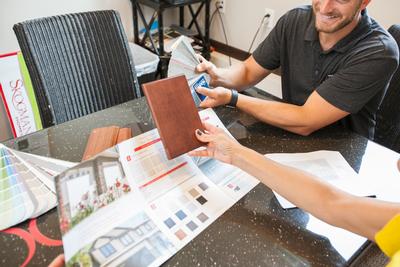 Some builders will take a "less is more" approach and only communicate with you when they need your input. Other builders will set-up a recurring meeting to provide project updates and alleviate any of your concerns.
How often will your home be inspected?
At key points of construction, your home will need to be inspected by the local building inspector to ensure that the proper building codes are being followed. Beyond that, your home should also be inspected by your building company on a recurring basis.
Discuss how often these inspections will take place and determine if you are comfortable with that increment. Additionally, ask how often you will have the opportunity to walk-through your home as construction progresses.
Where are key team members of the company located?
When choosing a builder to work with, make sure key members of the team are located within a reasonable distance of your build site. Throughout the building process, it is important that your project manager can get onsite quickly if a problem arises.
Additionally, as your project moves from close-out into the warranty period, you will want to make sure your builder is close by and able to quickly address any of your concerns. A builder that is located far away or even out-of-state may not be as inclined to resolve problems in a timely manner.
—
There are thousands of qualified residential home builders across the nation competing for your business. It is important to properly vet the potential candidates before moving forward with your project. At Skogman Homes, we welcome all of your questions and look forward to working together on building your dream home.
---
Tags:
skogmanhomes
|
New vs. Used
|
Skogman Homes CV
|
Housing Market
---
By Brionna Farney