6 Top Trends in New Construction for 2022
Posted:
April, 4, 2022 |
Categories:
Tips & Trends
Residential home design and construction are constantly changing to meet the needs of a modern lifestyle. From functional floor plan upgrades to the latest interior design trend, there is a lot to be aware of when designing your ideal home.
Also, keep in mind that some design trends come and go, so it is important to choose those that will stand the test of time. The following trends are popular today and will add to the design and value of your home for years to come.
1. Healthy Homes
The importance of a healthy living environment was highlighted over the past couple of years and carries through to the present. Homeowners want the place they play, sleep, and work to feel safe and nurture a healthy lifestyle.
The main focus of a healthy home is promoting clean air inside. Opt for efficient HVAC systems, natural ventilation, or even consider air purification measures that rid the air you breathe of dust and allergens.
Additionally, there is a renewed focus on "biophilic design," or bringing elements of nature inside. By maximizing sunlight through window placement and fresh air through ventilation, your home feels healthy and connected with the outside environment.
2. Indoor-Outdoor Living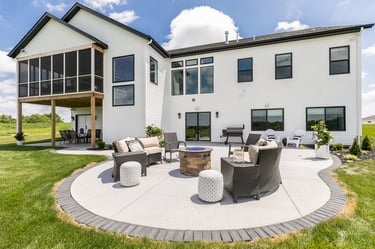 Homeowners spending more time at home have an increased desire to maximize every square inch of space, including outdoor space. This starts by blending indoor and outdoor living: large sliding patio doors that can be left open on a warm summer's day or an entire wall of windows that display the picturesque view outside.
In addition to a better view and access outdoors, many are creating indoor-like living spaces in their backyards with the help of comfortable and cozy outdoor furniture. Add in an outdoor kitchen and an intimate seating area around a fire, and you have essentially doubled your living space without putting up a single wall.
3. Multi-Functional Spaces
Those in the market for a new construction home are looking for floor plans that offer the most flexibility for their ever-changing lives. Layouts with "flex" rooms that can be used as either an office, play room, or workout space are a high-priority item.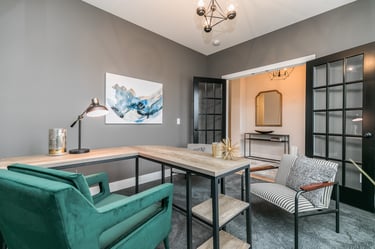 Rooms that once served a traditional function have found a new purpose. Formal dining rooms have turned into offices with the help of French doors that provide seclusion. Closets, empty niches, and even laundry rooms have been built out into workspaces for at-home education. All in all, you can never have too much extra space or storage to solve your everyday needs.
4. Energy-Efficiency
Homeowners are looking to combat uncertainty around energy demands and pricing by choosing energy-efficient systems and materials for their homes. These choices not only reduce energy consumption, they lead the way towards a cleaner and more sustainable future.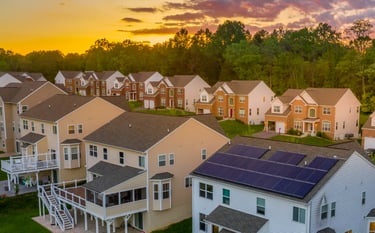 Incorporating energy-efficiency into new construction can be done in many areas of the home. Look to your builder to suggest the most efficient HVAC system, high-performance insulation, and impenetrable windows that work together to reduce your overall energy needs.
Additionally, some homeowners are putting their energy needs in their own hands by installing "off-the-grid" power sources directly at their residences. Renewable energy sources, like geothermal and solar power, account for 7% of residential energy use, according to the U.S. Energy Information Administration.
5. Earth Tones & Textures
Coinciding with requests for a healthy home is a desire to feel closer to nature. By using various earth-toned and textured design elements throughout your home, you create a comfortable, cozy, and welcoming feel–everything you want to come home to after a long day out.
Earth tones are a great choice for paint colors. On the neutral end, opt for creams, beiges, and browns. For a bolder look that still connects with nature, choose deep greens, rusts, or navy blues. Incorporate natural textures with wood tones, grasscloth wallpaper, or a stone fireplace.
6. Colorful Kitchens
The all-white kitchen may officially be dethroned. Designers and homeowners alike are bringing color back into the kitchen, either in a subtle or a bold manner. The latest trending kitchens feature colorful cabinets, bright backsplash tiles, or sometimes even both.
If you tend to veer away from color, think about incorporating shades like sage green or sky blue, that will not dominate your space. Alternatively, you could limit the number of elements in your kitchen that bring in color, like just a pop of color in your island cabinets.
—-
When choosing the style and layout for your new construction home, make sure it is adaptable to an ever-changing world. To see these and other trends on display, check out the move-in-ready homes available with Skogman Homes. With homes available in all stages of construction, you are sure to find one that fits your needs now, and forever.
---
Tags:
Tips & Trends
---
By Brionna Farney