The Perfect Dip for Football Fans
Posted:
October, 9, 2018 |
Categories:
Blog
|
Tips & Trends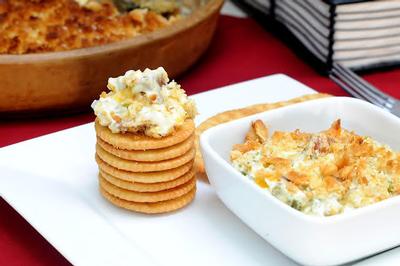 It's football season in the Corridor! Whether you cheer for the Hawkeyes, the Cyclones, the Bears, Packers or any other gridiron gang, we've got the perfect dip to share with your home team.
If you like your appetizer with a little kick, this Cream Cheese Jalapeno Popper Dip should be in your play book.
Serve with tortilla chips, Ritz crackers or Fritos for the ultimate matchup.
Everyone will be a fan of this creamy, addicting dip, so don't be surprised if it doesn't last past half time.
Ingredients:
6-8 slices of bacon, diced and cooked crispy
2 8-oz packages of cream cheese, soft
1 cup of mayonnaise
4-6 jalapeno's, chopped and deseeded. The seeds will make it fiery hot.
1 cup of cheddar cheese, shredded
1/2 cup of mozzarella cheese, shredded
1/4 cup diced green onion
For topping:
1 cup of crushed crackers ( I used Ritz)
1/2 cup parmesan cheese
1/2 stick of butter, melted
Directions:
Preheat oven to 350.
Combine all of the ingredients into a medium bowl. Stir well.
Transfer to an oven proof dish.
The size of the dish depends on how thick the dip is. The thicker the dip the longer it may need to warm up. I used a stoneware dish that is round and measures 12 inches across. My dip is usually about an inch thick.
Combine the topping ingredients and sprinkle all over the top of the dip.
Bake the dip for 20-30 minutes or until bubbly.
Recipe via Simply-Gourmet.com (http://www.simply-gourmet.com/2012/08/183-jalapeno-popper-dip.html?m=1)
---
Tags:
Blog
|
Tips & Trends
---
By Skogman Homes